Medisoft Problem:
– No new claims were created.  If you expected some to be created, check the following items
Solution:
1. The patient's case needs at least one Insurance carrier.
Do this by making sure the Policy 1 tab has a valid Insurance Carrier selected, as shown below: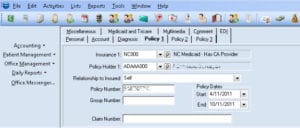 2. The filter used to select transactions for claim creation may be excluding all transactions that are eligible to be placed on a claim.
3. The transaction needs at least one insurance carrier that is responsible for payment.