In addition to the Appointment Status Report, and Appointment Analysis Reports, Office Hours offers various other reports that can help your office in different ways. These reports can be printed from the Reports menu.
Appointment List: This report will give you a list of all appointments for a given date range and range of providers. You will see the time of the appointment, the name of the patient, the phone number, the length of the appointment, and any notes. This information will be given for each scheduled appointment that falls within the given ranges. This list can be used to make reminder calls.
The Appointment List can be printed in one of two different ways – with or without blank appointments. This is helpful to practices who want to have more clear visibility to blank appointments in the daily schedule. These two schedules show the difference that this option makes on the same appointments for the same doctor on the same date.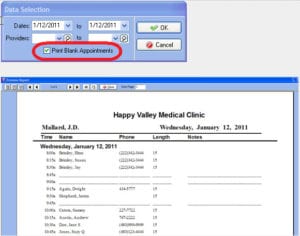 No Show Report: No Show reports are important to an office because they cost the office money. The time not spent seeing those patients who did not show up could have been spent seeing other patients. This report will give you the information for each appointment that was missed, as well as totals showing how many appointments were missed.
In order for this report to function properly, you must be properly utilizing your appointment status options.

Print Appointment Grid: The option to print the appointment grid will allow you to print a list of all appointments showing on the currently displayed view. This report can be printed in list format, which would be a format similar to the Appointment List.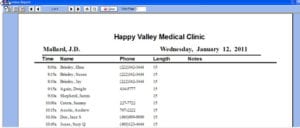 This report can also be printed in a Grid View. This option will show the entire schedule for the day, including any blank appointment slots.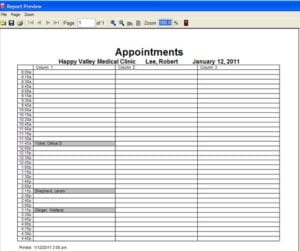 There are other reports available within Office Hours and Office Hours Professional. Please refer to the Help Files of these programs for more detailed information regarding these reports and the information available on them.